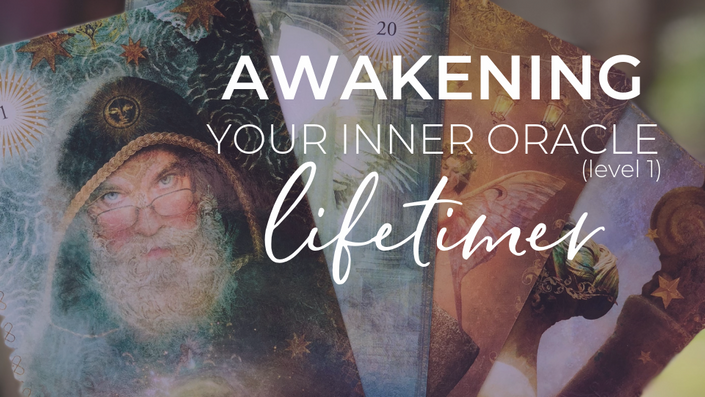 Awakening Your Inner Oracle 1 Lifetimer
Learn to give amazing oracle card readings from your intuition and use your spiritual gifts to heal yourself + help others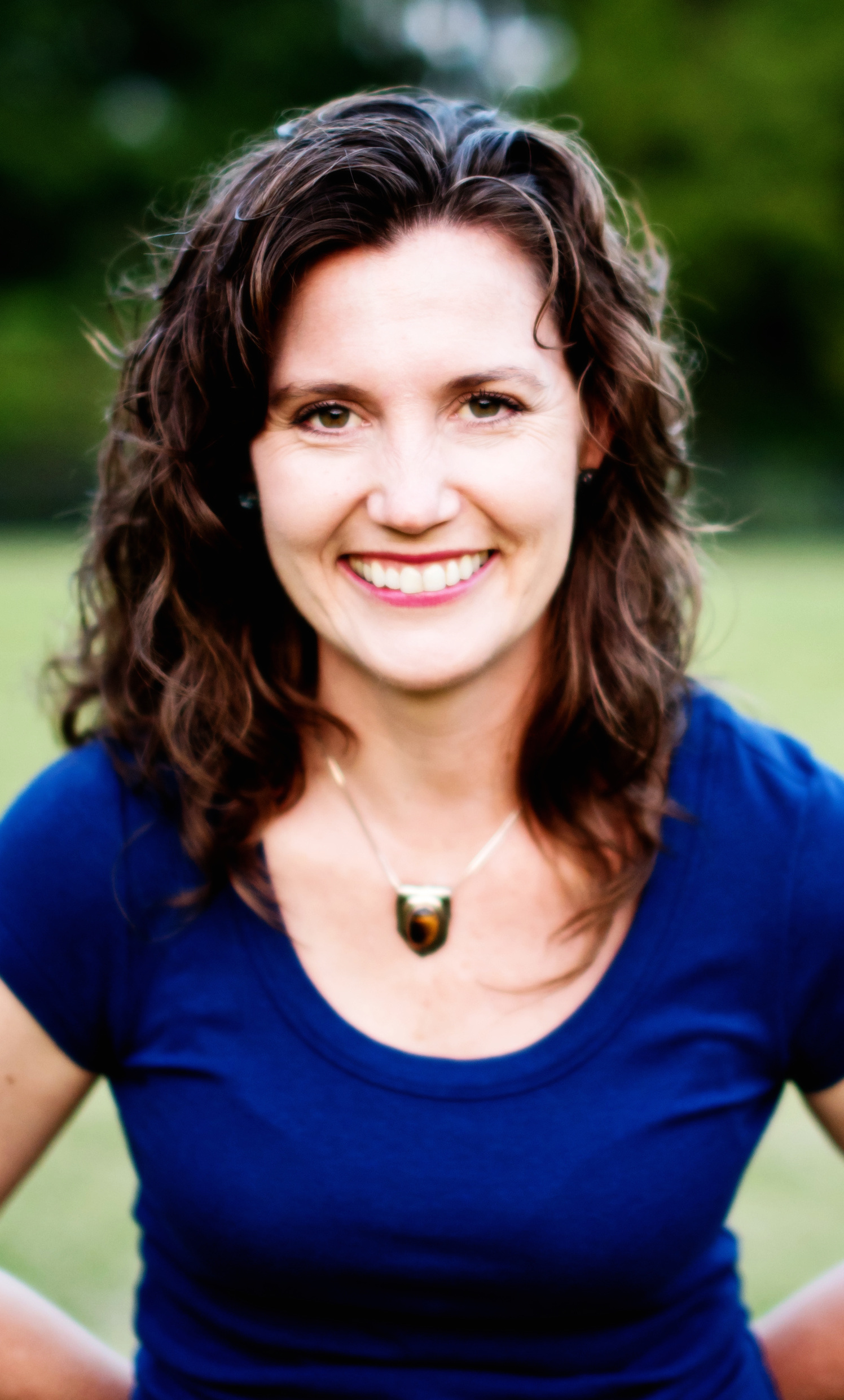 A message from your human spirit guide...
Thank you from the bottom of my heart. This experience with you in the 30-Day Oracle Experience has exceeded my wildest dreams and I hope it has for you too!
My wish for you is that continue doing this sacred work for yourself and because you have a bright heart-light to shine on this planet! I'm happy to support you on your journey however I can.
Should you choose to continue with this course in Intuition School, I'll see you on the inside!

Awakening Your Inner Oracle (level 1)
Have you been wanting to connect more fully with your intuition, learn about your path, and get clear messages from the Universe?
This is your chance to tap into the power and the magic of your intuition and more using oracle cards.
Before there was spoken language, our ancestors drew symbols on cave walls to communicate. Wisdom was passed down through generations using these ancient symbols and we still carry deep unconscious recognition of these symbols today.
In addition, the unique experiences and beliefs you have with the different symbols that you interact with throughout your life give meaning to those symbols that are unique to you.
Oracle cards access your unconscious ancestral memories as well as your own personal meaning of these symbols to bring you the messages you need.
My course will teach you step-by-step how to easily get – and give! – accurate oracle card readings using just your intuition. You'll feel connected and amazed at yourself with what comes through!
Here's what some of my students have said in their surveys and feedback:




Should you choose this path, you'll get to enjoy the discovery of your unique intuition + spiritual gifts through the world of oracle cards.
Here's what you'll do in the course:

Open the Circle:
–> Set a clear intention
–> Use your cards to create your own invocation
–> Open your receptivity channels
–> Consciously connect with your intuition on demand
–> Find your personal sacred item
Let Your Intuition Lead:
–> Intuitively read your cards
–> Trust yourself + your intuition
–> Create your personal guidebook from Spirit
Ask Empowering Questions:
–> Write "proper" questions to ask the cards
–> Rewrite "bad" questions into proper format
Trust Your Cards:
–> Build trust with your cards
–> Infuse your cards with your energy
–> Intuitively pick your cards
Learn Simple Spreads:
–> Use spreads to go deeper
–> Simple 2-card spreads
–> Powerful 3-card spreads
Clear Your Energy:
–> Embody a transformation with a Spirit Action
–> Identify + close your energy leaks
–> Properly disconnect from your readings
–> Liberate yourself from limiting beliefs that are holding you back
Meet Your Intuitive Community:
–> Get full support + feedback from me throughout the program
–> Be nourished in a tribe of like-hearted women who get you!
Your Instructor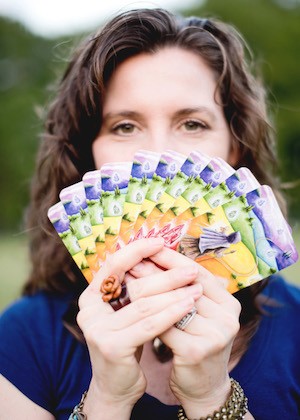 Everything you desire is inside of you. The more you look to the outside world for answers, the further from your desires you go. Are you ready to shift from "want" to "have"? Then let's take a journey, shall we? Hi, I'm Jen Blumenthal, Founder of Intuition School + Human Spirit Guide for awakening women craving more meaning, connection, and joy in their lives with flow and ease. The secret lies in finding your unique flow and ease first, which then leads naturally to the rest. To help you find it, I'd love to share the wisdom of oracle cards + the magic of the moon, guide you through the healing process of Soul Art, clean up your energy, and help you make friends with your (very talkative) intuition as we explore the unique landscape of your Soul and empower you to free your awakening Spirit. Curious to know more? Let's play!
Course Curriculum
Module 1: Open the Circle
Available in days
days after you enroll
Module 2: Ask Empowering Questions
Available in days
days after you enroll
Frequently Asked Questions
When does the course start and finish?
Once you enroll permanently beyond your free participation in the 30-Day Oracle Experience, you'll have lifetime access to this course to go through it again and in more detail at your own pace and on your own schedule. You'll be notified when this course is run "live" again in a group and you'll have the option to participate live at that time. The next live date is TBD.
How long do I have access to the course?
Once you have paid to enroll beyond the free 30-Day Oracle Experience, you'll have access for LIFE! You'll also get any updates that I make to the course included in your purchase.
Can I get a refund if I change my mind?
Maybe. If you applied to participate in the free 30-Day Oracle Experience (July 2019), then your 30-day guarantee has already passed, so I won't be able to offer you a refund (even if you chose not to participate once you were approved). However, if you were not on the approved list and this is your first time taking the course, then you do have the option of requesting a refund within the first 30 days. I'll ask for the chance to make you happy first. If I can't, I'll gladly give you a full refund. You will forfeit any bonuses and I'll ask you to delete/destroy anything you downloaded from the class.
What happens to my current access in the 30-Day Oracle Experience if I don't take you up on your offer?
If you choose not to enroll in one of the offers, then we will part ways (for now) and you will loose access to both the course and the course Facebook group. The last day to access the course and the Facebook group is Sunday, August 11th, 2019. After that, you will be removed from both the course and the Facebook group. You will always be welcome to return, but you will have to pay the pricing that's listed at that time.
I really want it but I can't afford it.
Ok, not really a question, but something that comes up a lot. I can't tell you what to spend your money on or make you a budget to determine if you really have the money or not, but if you feel that this is something that your Soul needs, then you will find a way to prioritize your money to invest in this for yourself. Investing in things that you KNOW are positive for your growth is self-care. When you fill your own cup, you restore your resources and enlarge your inner light so that you can become who you are here to be. The more you do that, the more magnetic you become for increased abundance to flow to you. So are you on this planet to serve other people as a healer, teacher, lightworker, starseed, or anything else? The best way to increase your income is to work on your inner world and that's exactly what we do in Intuition School, so the real question is: can you afford NOT to sign up if you KNOW you're here to serve in some way? It's time for you to get to work. If you have fears around money or need help figuring out payments, please contact me and we can walk through it. Sometimes it's just fear. Sometimes it's really about focusing your money elsewhere than here. We can help you figure out what's best for you.
Will this offer be available at a later date?
The option to enroll in this course will come around again. I do not know when or what the price will be at that time.
Can I cancel my membership later on?
No. You are purchasing a product and/or services. This is NOT an ongoing monthly subscription plan. If you have chosen to pay for your enrollment using a payment plan, you are obligated by law to pay the entire amount in full (unless you request a refund within the 30-day guarantee window). By registering through Teachable and entering your payment information, you are agreeing to pay the full amount. If you have any questions about this, please ask before purchasing. I'm happy to chat about it and help you decide if enrolling is right for you.
What do I get if I ONLY purchase Awakening Your Inner Oracle 1 Lifetimer?
If you enroll in Awakening Your Inner Oracle 1 Lifetimer and do not enroll in Intuition School Insider or Intuition School VIP, then you get lifetime access to the course 'Awakening Your Inner Oracle (level 1)' in Intuition School (which is the same course as the 30-Day Oracle Experience), membership in the Intuition School Inner Circle, and any bonuses that are listed on the Intuition School sales page that apply to everyone. The bonuses that do NOT apply to this Lifetimer purchase are claiming your star and getting a free 1-on-1 initiation call with me.
I have more questions...
If you have more questions or want to know if Intuition School is right for you, shoot me a Facebook message (friend me at facebook.com/rinehaja) or send me an email at
[email protected]
and we can chat about it. I'm happy to answer any questions you may have.
I can't wait to welcome you into Intuition School!
If you have any questions please send me a FB message (facebook.com/rinehaja) or an email ([email protected]) and we can chat!
Sending you lots of love!

This course is closed for enrollment.