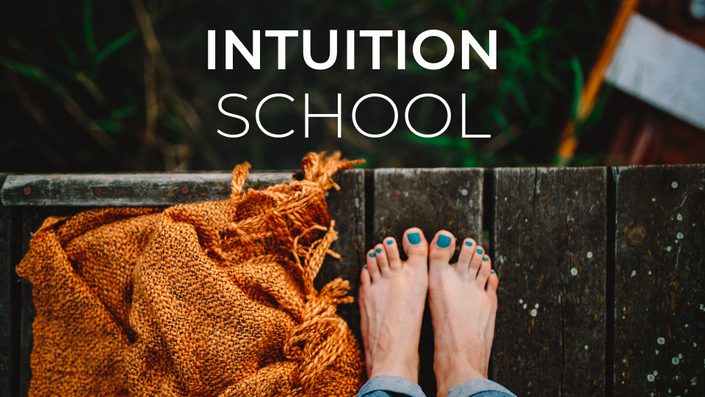 Intuition School
Find your magic in the mundane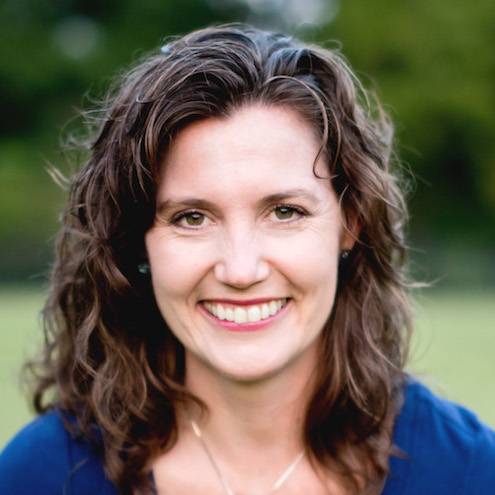 A message from your human spirit guide...
Thank you from the bottom of my heart. This experience with you all has exceeded my wildest dreams and I hope it has for you too!
In order to continue what we have started -- what YOU have called into YOUR life -- below there are several ways to work with me AND with each other.
I hope you will be continuing your journey in this sacred space with us.

As one of the chosen ones, you will feel a call to do this mystical work in the world because you can feel the healing power of it.
As one of the chosen ones, you will feel the ignition of your inner light and know that it's burning and ready to shine.
As one of the chosen ones, your star in the Intuition School Galaxy will be flickering at you inviting you to claim it...
Because your star on this cosmic healing map is the portal to your next level awakening.
Your star is part of the web of healers, light workers, + starseeds uniting around the globe offering your sacred medicine for the highest and best healing of the planet...
And your star pulses with YOUR highest frequency -- the frequency of your best self who is here to live your best possible life.
She has sent this star straight to you as an invitation to claim your highest good.
When you join Intuition School Insiders or Intuition School VIP as a founding member, you get to claim your star in the constellation of your choice in the Intuition School Galaxy which will initiate a new level of healing for you.
You'll notice that each constellation has the name of a crystal.
Once inside the sacred container of Intuition School, we will go deeper into the crystal meanings of each constellation so that you can learn to work with that crystal's healing powers.
There are only 90 stars remaining for founding members of Intuition School.
Is one of those stars a vibrational match for you?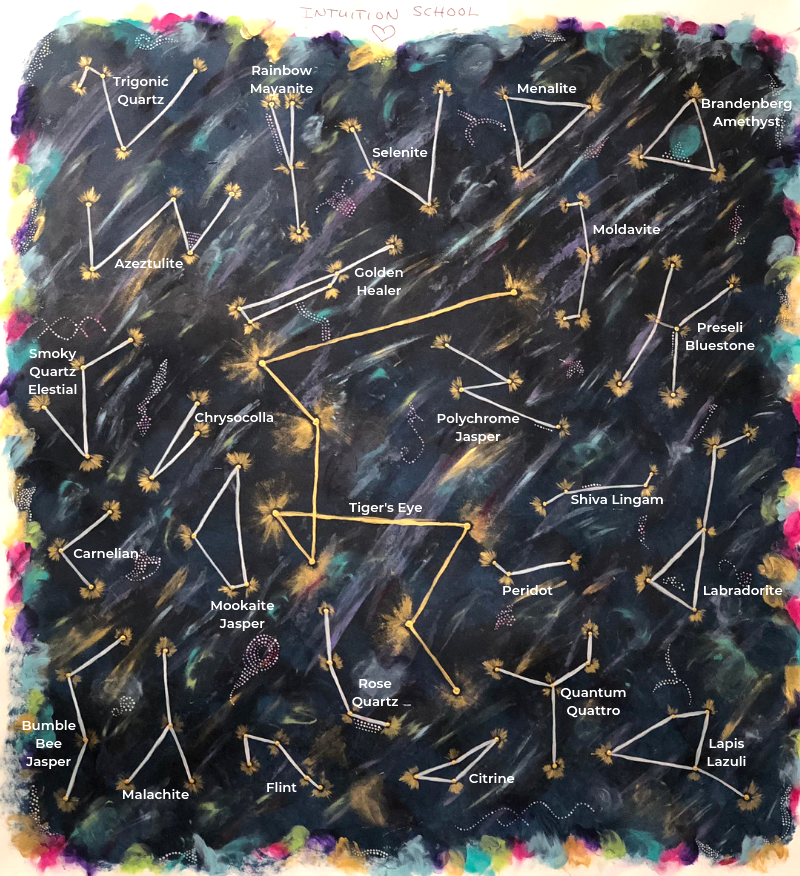 If you are ready to choose your star, your options are below.
And did someone say...BONUSES?
Yep! Worth $625!
Bonus #1: The Big Book of Spreads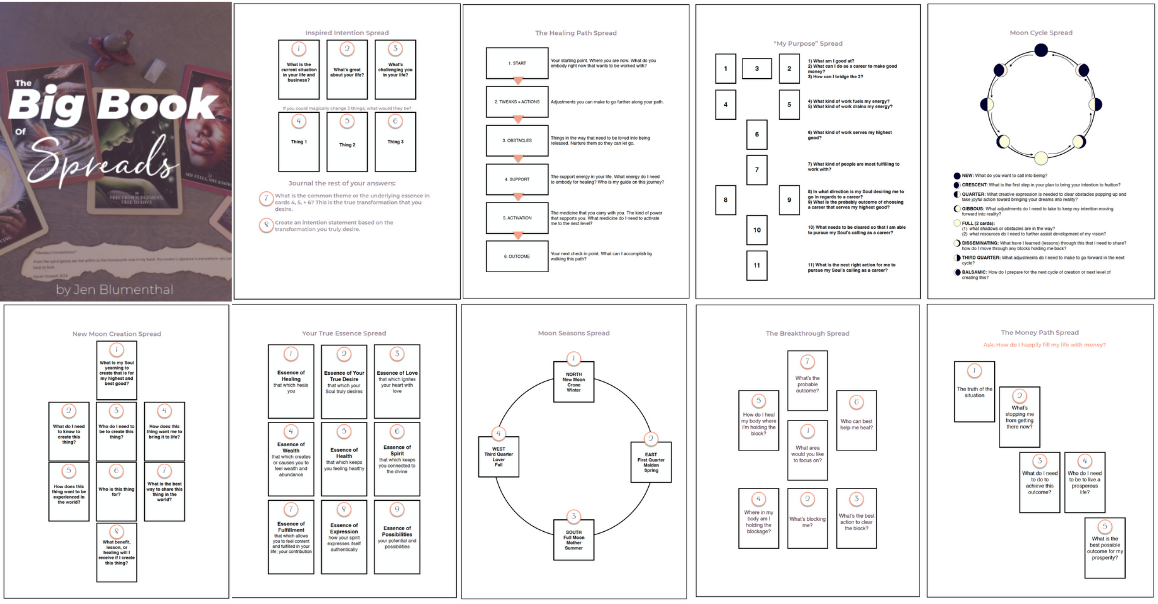 Over 75 card spread layouts for examining every question you have and every facet of your life, including:
The healing path spread
The breakthrough spread
The money path spread
Your true essence spread
New Moon creation spread
Moon seasons spread
Moon cycle spread
Goddess Guides spread
Your Soul Map spread
...and more!
(value $74)
BONUS #2: Mini Mandala Digital Coloring Book
Enjoy a simple moving meditation to quiet your mind so you can clear your channel and open up your inner senses for deeper listening while you color. Mandalas and doodles all hand-drawn by me with love. (value $11)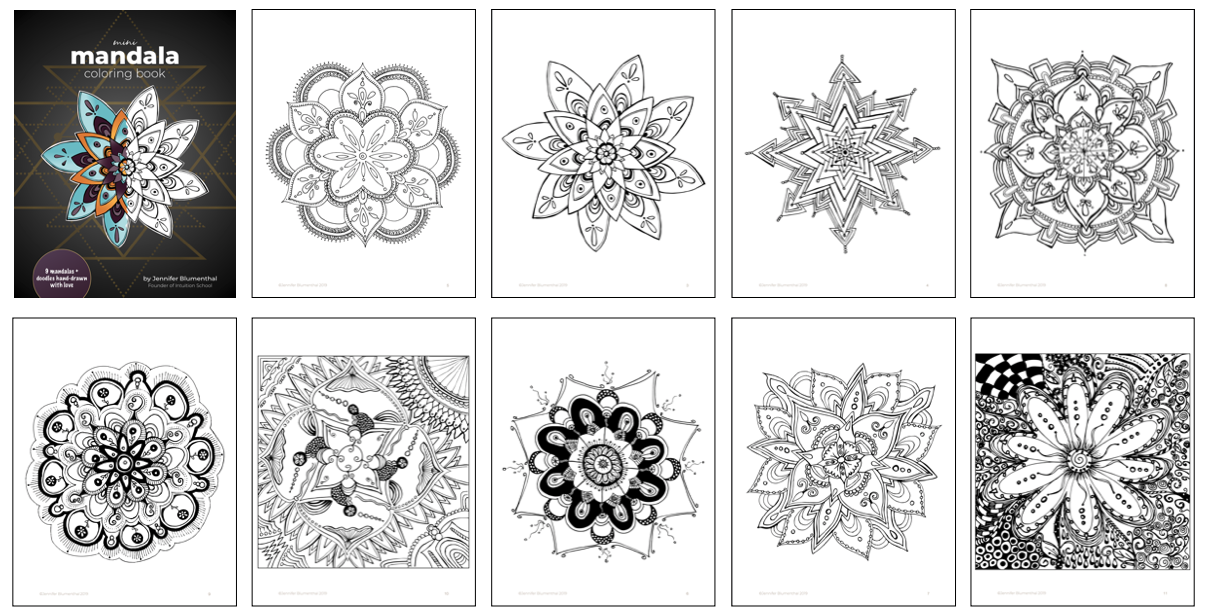 BONUS #3 - Intuition School Inner Circle Community - where all the magic happens!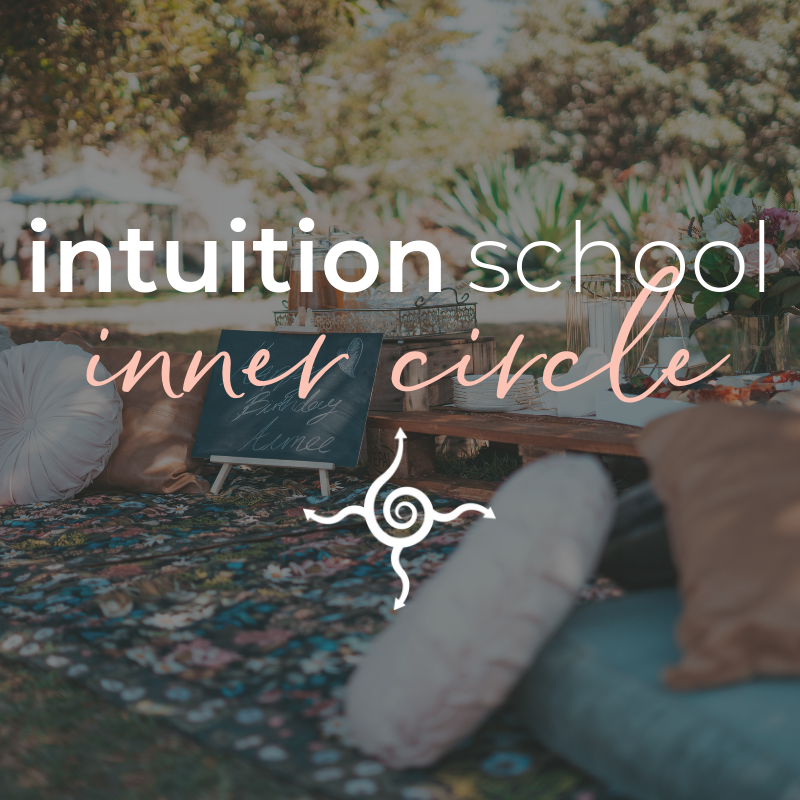 The Intuition School Inner Circle is your sacred community of Soul Sisters online (our Facebook group). Would you like more support for your journey? To be part of a group of soul sisters who "get" you? The Intuition School Inner Circle is a monthly membership program of passionate and compassionate Souls consciously and collectively bringing light and healing to ourselves and the world where we come together as that collective to collaborate, support each other, keep each other on track on our spiritual paths, deepen our connections, develop our spiritual gifts, and amplify our light by coming together.
We use oracle cards as our main tool for direct connection to the Divine to heal and transform our lives and share our sacred medicine in the world. Your membership includes fun stuff like a live, monthly, creative ritual; Weekly Wisdom FB Live from the oracle cards with live readings for members; a monthly card spread to try out; automatic entry into all future beta test programs; group collaboration opportunities; oracle games; group gallery readings + the BEST intimate Soul Family gathering in our private FB community... plus any other surprises that I may think up! (value $264/yr)
BONUS #4 - Inner Circle Energetic Initiation Ceremony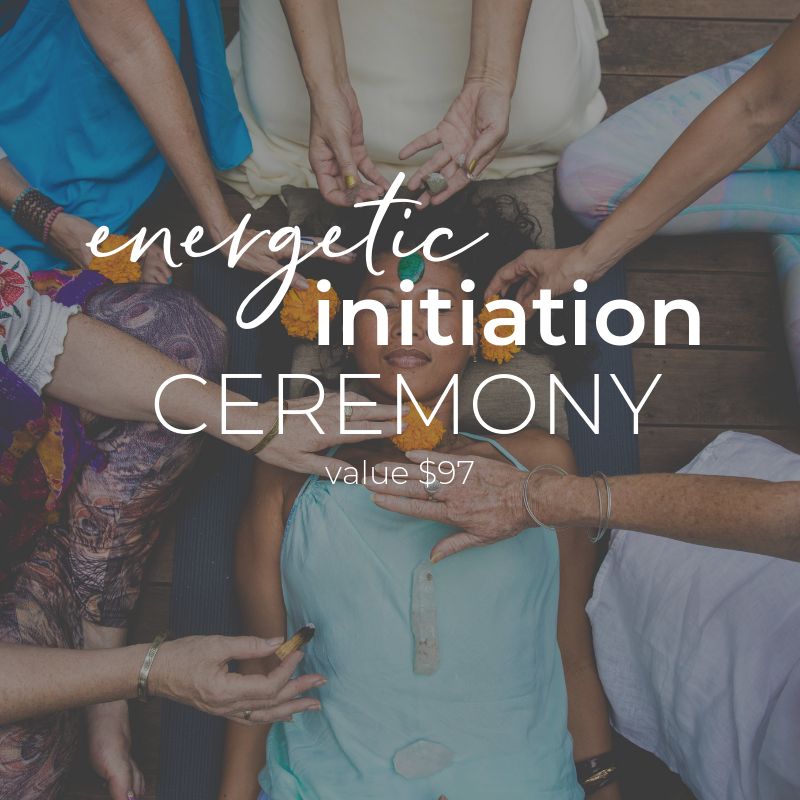 As we gather in our Inner Circle, we will open the space with a special initiation ceremony to welcome our new Soul family members and begin the next level of calling in our highest frequency.
This group ceremony will take place online so you can connect with your new sisters around the world without leaving the comfort of your home. (value $97)
BONUS #5 - Claim your star in the Intuition School Galaxy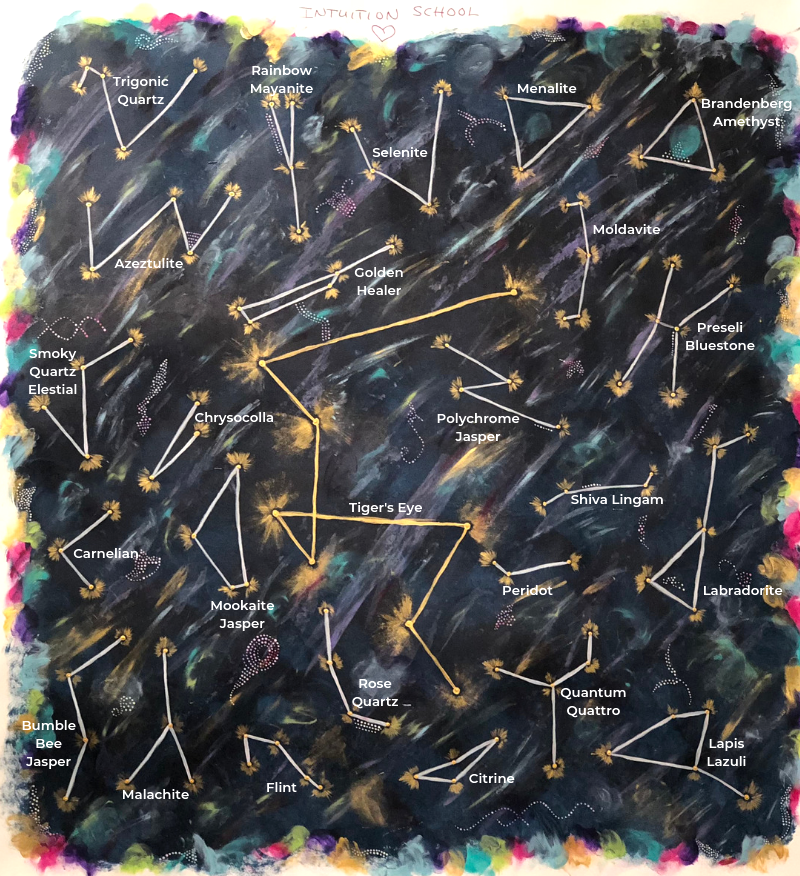 New founding members who enroll in Intuition School Insider or Intuition School VIP will have the opportunity to choose your STAR and activate your star power!
Only 90 stars remain. First come, first served.
Mark your place in Intuition School history and claim your star. (value: priceless)

LIMITED BONUS - First 12 people to enroll by midnight PT (Pacific Time) on Aug 10th, 2019 will receive a deck of oracle or tarot cards.
I have 12 decks to choose from - some new, some gently used and ready for a new home. What better way to re-home them than to pass them to a loving spirit who will make good use of them! I have ONE of each deck. You will get to choose your deck after you enroll. First come, first served. This bonus applies to all 3 levels of enrollment: Lifetimer, Insider, + VIP. (value approx $22 / varies)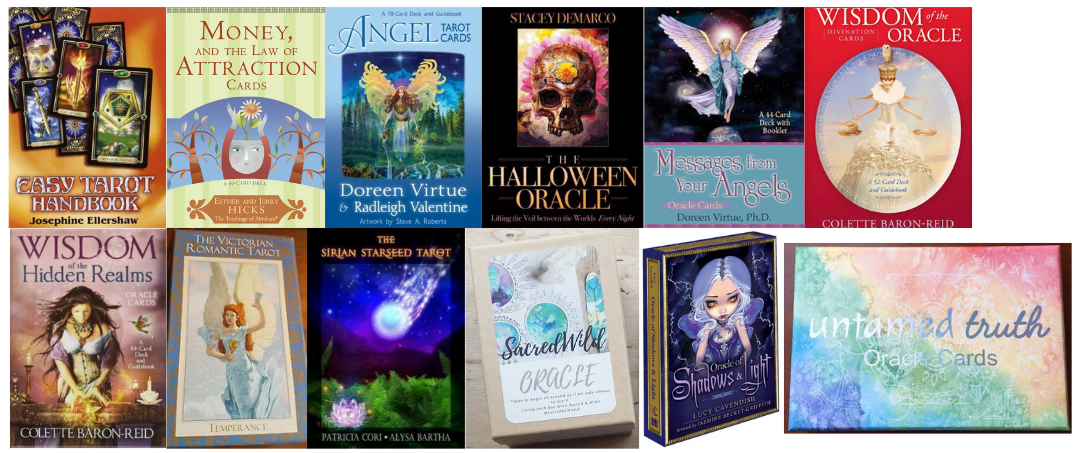 FAST ACTION BONUS - Enroll by midnight PT (Pacific Time) on Aug 8th, 2019 and receive a 1:1 personalized, deep dive, initiation call with me.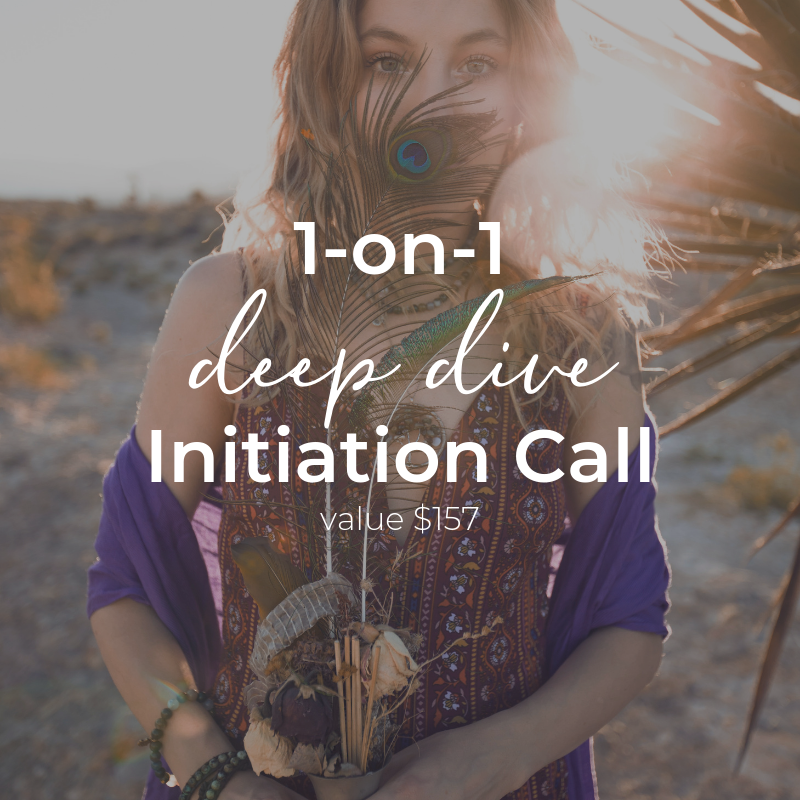 Want to jump start your journey? Those who enroll in Intuition School Insider or Intuition School VIP by midnight Pacific Time on Aug 8th, 2019 will receive a 1:1 initiation call with me. We will dive in deep to learn what you want, what's holding you back, and how to accelerate your spiritual journey. I'll contact you after you enroll to book your session. (value $157)
Your Instructor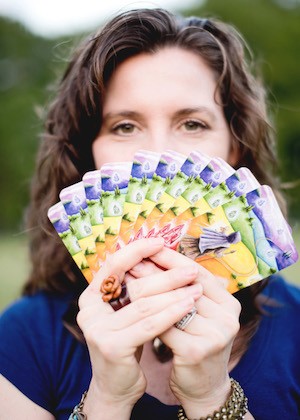 Everything you desire is inside of you. The more you look to the outside world for answers, the further from your desires you go. Are you ready to shift from "want" to "have"? Then let's take a journey, shall we? Hi, I'm Jen Blumenthal, Founder of Intuition School + Human Spirit Guide for awakening women craving more meaning, connection, and joy in their lives with flow and ease. The secret lies in finding your unique flow and ease first, which then leads naturally to the rest. To help you find it, I'd love to share the wisdom of oracle cards + the magic of the moon, guide you through the healing process of Soul Art, clean up your energy, and help you make friends with your (very talkative) intuition as we explore the unique landscape of your Soul and empower you to free your awakening Spirit. Curious to know more? Let's play!
MONEY BACK GUARANTEE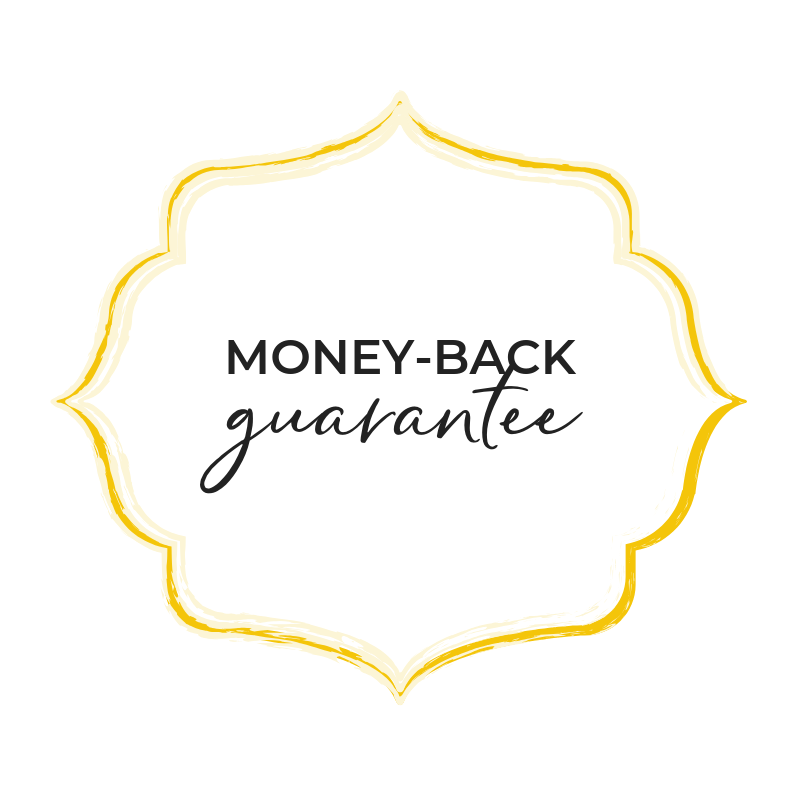 I know your investment is precious and you want to receive maximum value for it. I plan to deliver! I am so confident that Intuition School Insider and Intuition School VIP will exceed your expectations, that if I don't upload a minimum of 2 new courses into Teachable in the next 12 months, I'll give you a full refund!
How's that for guaranteed value?

(*refunds for Awakening Your Inner Oracle 1 Lifetimer are available within 30 days from purchase only for those who did not apply for the free 30-Day Oracle Experience .)
Frequently Asked Questions
Do I really get lifetime access?
YES! For as long as there is a school, you have access to whatever level you sign up for. Once you join you become an official part of my Soul Family and that connection will last forever... with that said, will you be inviting me over for holiday dinner?? :)
On the Intuition School Insiders and VIP do I really get access to EVERY course?
YES! If it goes into Teachable, you get it!
I really want it but I can't afford it.
Ok, not really a question, but something that comes up a lot. I can't tell you what to spend your money on or make you a budget to determine if you really have the money or not, but if you feel that this is something that your Soul needs, then you will find a way to prioritize your money to invest in this for yourself. Investing in things that you KNOW are positive for your growth is self-care. When you fill your own cup, you restore your resources and enlarge your inner light so that you can become who you are here to be. The more you do that, the more magnetic you become for increased abundance to flow to you. So are you on this planet to serve other people as a healer, teacher, lightworker, starseed, or anything else? The best way to increase your income is to work on your inner world and that's exactly what we do in Intuition School, so the real question is: can you afford NOT to sign up if you KNOW you're here to serve in some way? It's time for you to get to work. If you have fears around money or need help figuring out payments, please contact me and we can walk through it. Sometimes it's just fear. Sometimes it's really about focusing your money elsewhere than here. We can help you figure out what's best for you... by the way, manifesting and money mindset are 2 things that we work on in Intuition School.
Can I get a refund if I change my mind?
Yes, enrollment comes with a 30-day money back guarantee. If you are not satisfied, please first give me a chance to fix the issue. If that doesn't work, I'll give you a refund, no hard feelings. You'll forfeit all bonuses and I'll ask you to delete/destroy anything you have downloaded from the school.
Will this offer be available at a later date?
No. Intuition School is in its infancy now and I'm working to grow it and share its light. My goal is to enroll 108 founding members at an all-for-one lifetime enrollment price (ALL courses in Intuition School as a package for one low price). Once those 108 founding members are enrolled, each course will be priced separately at their full price. The value of Intuition School now is around $3000 (plus bonuses) and will continue to go up with each new course that I add (there will be at least 2 more courses added over the next 12 months). So, if this is something that is calling to you and you don't want to miss out on the chance to become a founding member or don't want to pay full price later, now is your best chance to get the best deal. Do not wait or you'll miss your chance.
What happens to my current access in the 30-Day Oracle Experience if I don't take you up on your offer?
If you choose not to enroll in one of the offers, then we will part ways (for now) and you will loose access to both the course and the course Facebook group. The last day to access the 30-Day Oracle Experience and the Facebook group is Sunday, August 11th, 2019. After that, you will be removed from both the course and the Facebook group. You will always be welcome to return, but you will have to pay the pricing that's listed at that time.
When do I get access to all of the courses as an Insider or VIP?
If you enroll as an Insider or VIP you will get immediate access to all of the courses currently in Intuition School in Teachable. You'll get access to new courses as soon as I upload them to Teachable. The courses currently in Teachable are: 30-Day oracle experience (which will be renamed to Awakening Your Inner Oracle 1), Awakening the Whole Self: a creative spiritual journey, Moon Wishing: The Art of Manifesting Transformation (DIY version), Intuition School Inner Circle, Energetic Vision Board, Magical Moon Creative Life Guidebook. Any other courses that I listed in the description on the sales page are courses I will be building and uploading to Teachable over time. Some of the courses I have already created and taught live in person, but need to be reformatted to an online format before I can upload them. Other courses and products I still have to create. I will be uploading things to Teachable on a regular basis and you will get access to them as soon as I upload them.
What guarantee do I have that you'll add more courses once I enroll as an Insider or VIP?
I am offering you a money-back guarantee. If I don't upload at least 2 more classes to Teachable by December 31, 2020, I'll be happy to issue you a full refund at your request. This is my life's work and my passion. It's my mission to surprise and delight you with courses, resources, products, and support along your journey so I am confident that you'll be completely delighted by your experience.
Can I cancel my membership later on?
No. You are purchasing a product and/or services. This is NOT an ongoing monthly subscription plan. If you have chosen to pay for your enrollment using a payment plan, you are obligated by law to pay the entire amount in full (unless you request a refund within the 30-day guarantee window). By registering through Teachable and entering your payment information, you are agreeing to pay the full amount. If you have any questions about this, please ask before purchasing. I'm happy to chat about it and help you decide if enrolling is right for you.
What do I get if I ONLY purchase Awakening Your Inner Oracle 1 Lifetimer?
If you enroll in Awakening Your Inner Oracle 1 Lifetimer and do not enroll in Intuition School Insider or Intuition School VIP, then you get lifetime access to the course 'Awakening Your Inner Oracle (level 1)' in Intuition School (which is the same course as the 30-Day Oracle Experience), membership in the Intuition School Inner Circle, and any bonuses that are listed on the Intuition School sales page that apply to everyone. The bonuses that do NOT apply to this Lifetimer purchase are claiming your star and getting a free 1-on-1 initiation call with me.
Why should I enroll in Intuition School now before you have fully built it out?
This is your chance to get in on the ground floor as a founding member at a low price that won't be offered for long. I have 108 spots open for founding members. Once those are taken, the package price will go away and all courses will be priced separately. Enroll now as a founding member and you ALREADY get about $3000 worth of courses PLUS free membership into a paid community of Soul Sisters who are here to change the world. I am so passionate about teaching women how to use their intuition to heal + empower themselves and become who they are here to be, that I'm confident that I'll add at least 2 new courses to Intuition School in the next 12 months. Should I not be able to do that for any reason, you have my permission to ask for your money back! So, you really have nothing to lose (except the frustration of trying to figure it out yourself and the loneliness of taking your spiritual journey all by yourself).
I have more questions...
If you have more questions or want to know if Intuition School is right for you, shoot me a Facebook message (friend me at facebook.com/rinehaja) or send me an email at jen@jenniferblumenthal.com and we can chat about it. I'm happy to answer any questions you may have.
I can't wait to welcome you into Intuition School!
If you have any questions please send me a FB message (facebook.com/rinehaja) or an email (jen@jenniferblumenthal.com) and we can chat!
Sending you lots of love!